Two Start-ups, one from Greece and one from Bulgaria, have decided to combine their ideas, plans, innovation capacity and abilities and work together to the common interest and progress within the context of the Cooperation Programme INTERREG V-A "Greece-Bulgaria 2014-2020".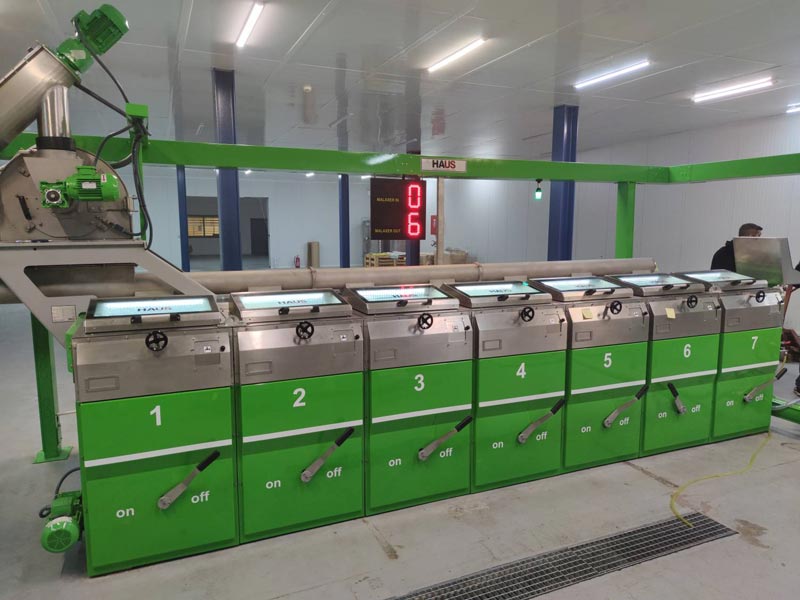 The Greek Beneficiary, THRACIA IKE, an olive oil mill enterprise that has started its activities during 2018 in the Industrial Area of Komotini by establishing a small line plans will expand considerably its production ability and improve the quality of the oil at the highest possible level by replacing the existing line with a high capacity brand-new one of two-stages. This will foster new chances for the company and secure its position in the markets of the western Europe where there live significant populations of Mediterranean origin and consume imported olive oil; preferably of high standards.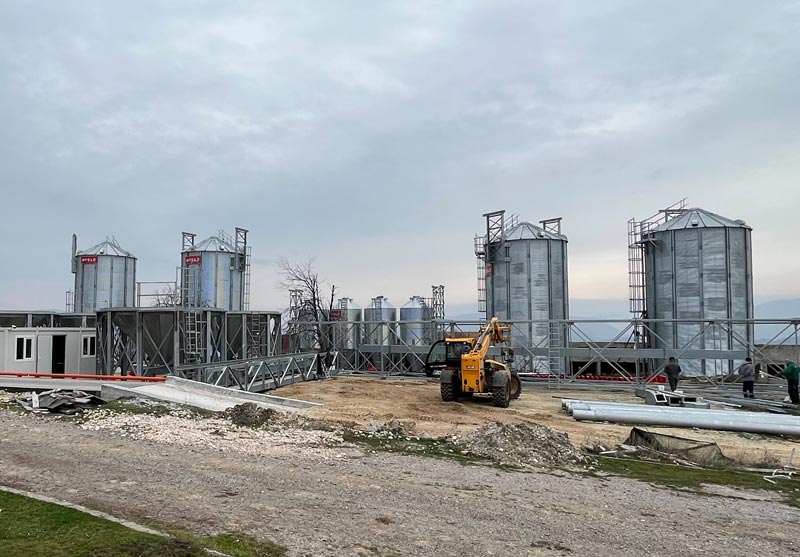 The Bulgarian Beneficiary, a progressive farmer who currently cultivates about 500 hectares of cereals and other agricultural products in Silen of Haskovo region, is pursuing to add more value to his primary production by processing it and turning them to animal feed of various types. A market research that covers the cross-border area in which the two businesses are activated, has proven the lack of significant animal feed producers, while at the same time the demand from livestock breeders, poultry and fish farms and other consumers is imperative; currently it is covered by imports from other areas of the two countries as well as from third -non EU- countries. To the above end a new company that will be activated in the secondary sector was recently founded; this is SERBEST AGRIFEED Ltd that will establish a brand new factory in existing property at Silen.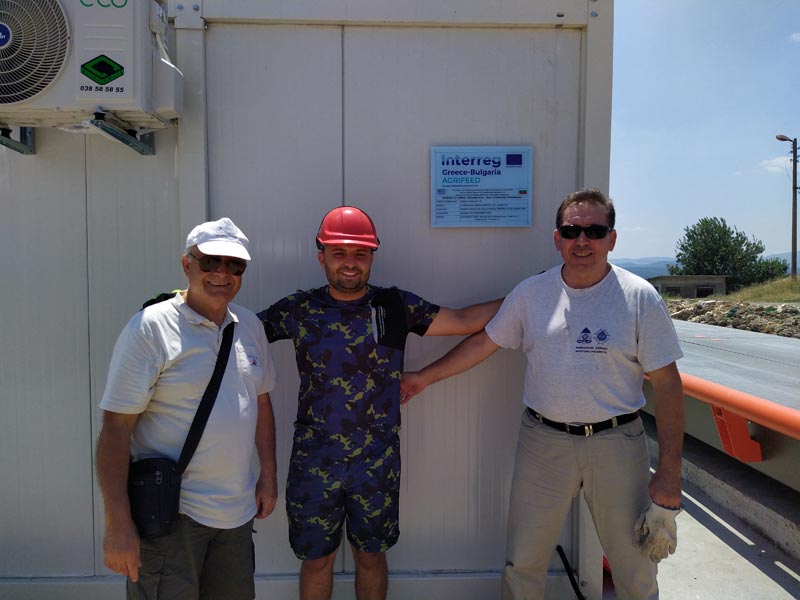 The installation of state-of-the-art production lines as well as the procurement of modern supportive equipment and the application of Food Safety Management Systems according to ISO 22000/2018 will improve their position in the respective markets. In addition, the two enterprises will develop a multiple business relationship spanning in research and development (R&D), reprocessing and trading.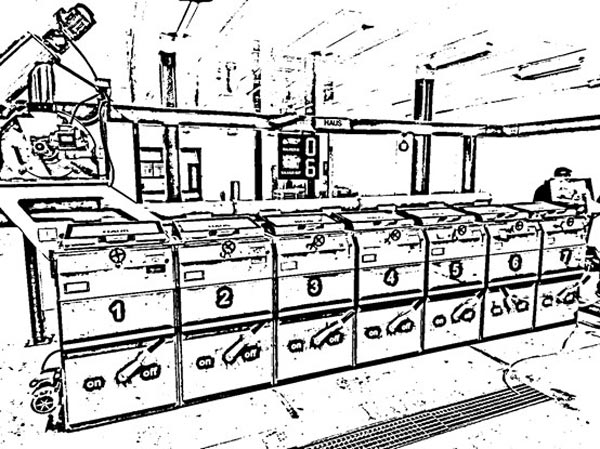 The works in the Greek side refer to a two-stages' continuous flow, high capacity olive oil mill that consists of an olives' Feeder (hopper elevator) with Defoliator (grate), a Cleaning machine, an olives' Crusher with its feeding elevator/hopper, a paste Malaxer, a Decanter for the extraction of the oil and the pomace from the paste, a Pomace removing conveyor and a Centrifugal separator, along with supportive elements like Pumps of various types, olive mixing and storage Tanks, a Flow-meter, a Boiler, a Heat exchanger, Heaters, pipes and hoses, and Control panels. The new plant will be integrated by a gravimetric, dual output Filling, Capping & Labeling line in PET, Glass or Tin containers of 0.25, 0.5, 1, 2, 3 and 5 liters.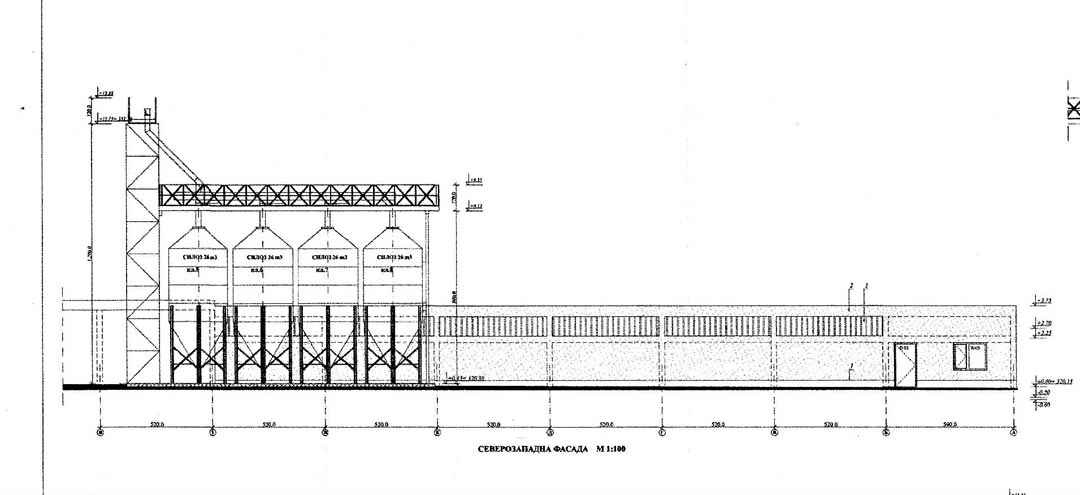 The Bulgarian Beneficiary will establish a farm animals' feeds production plant composed of a Raw material reception and storage unit, a Processing line, a Packaging line and finally a Ready products Storage unit. A truck reception infrastructure (raw material sampling and QC lab, weighbridge, discharge pit) will continue with storing and processing units, which consist of four Storage Silos and four smaller Feed Silos (buffer) along with a Hopper Elevator for pomace feeding, a Milling machine, a Mixer and an automatic Weigh machine for packaging in bags of 25 – 50 Kg. Elevators and Conveyors of various types and sizes will connect the above elements, while quality measuring and controlling instrumentation along with supportive systems (dosimetric weighing, aeration etc.) will secure the smooth and efficient running.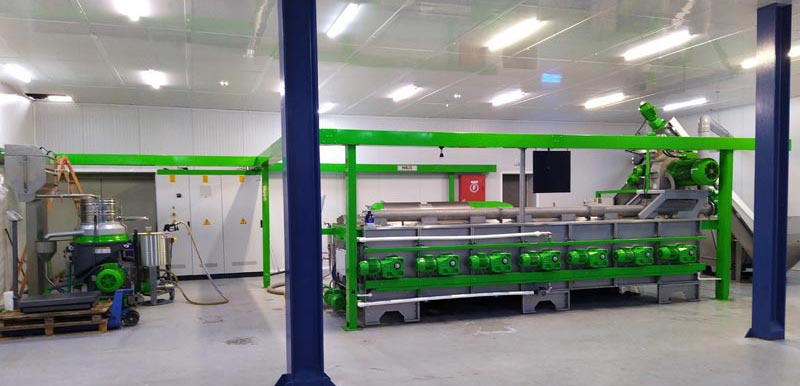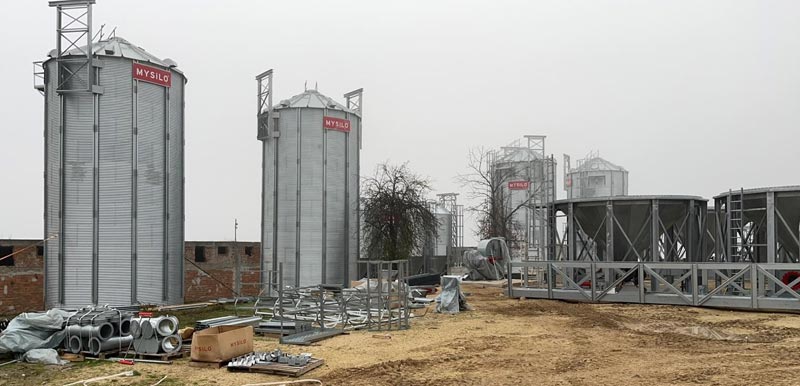 Both plants will gain competitive advantage through the acquirement of state-of-the-art software for the efficient monitoring and management of the manufacturing procedures. Furthermore, the quality of their produces will be guaranteed by the application of Food Safety Management Systems according to ISO 22000/2018.
Yet, the two beneficiaries will promote their produce in the local markets and at abroad and also they will represent and market each other produces in their respective countries. To this end they will develop a web-portal and also will co-participate to international fairs. Logos, packaging labels along with recognizable brands will support their presence in the market.
The Strategic objective of the investment refers to the exploitation of new business chances as far as it regards the dynamic of the cross-border area in terms of local resources availability and of the two partners potentialities.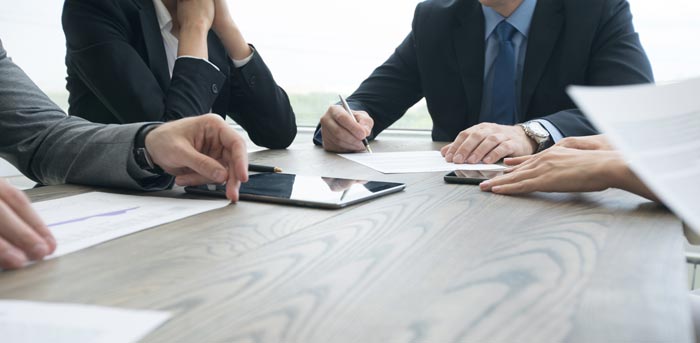 The expected outputs are:
One (1) industrial building of 456,0 sq.m . sq.m. plus 208,38 sq.m. of the truck reception, weighing and unloading infrastructure; all of them within 0,46 hectares of owned by the company owner land that will pass on to the company possession by a long-term rental agreement.
One (1) olive oil production line with a nominal maximum production capacity of 500 Kg/hr of ready product.
One (1) oil filling line in bottles with a nominal capacity of 100 items/hr for containers of 5 lt to 300 items/hr for bottles of 1 lt, up to 500 items/hr for bottles of 0,25 lt.
One (1) animal feed production line with a production capacity of 5 tn/hr.
One (1) byproduct recycling unit.
Two (2) Food Safety Management Systems according to ISO 22000/2018.
One (1) project web-portal and two (2) corporate web-sites.
Promotional material (brand identity, website, newsletters, brochures, banners, booth labels).
The expected results are:
Production of 131.020, 196.529, 262.039, 327.549, 393.059 and 458.569 litres of olive oil in the 1st, 2nd, 3rd, 4th, 5th and 6th year, respectively.
Production of 960, 1.440, 1.920, 2.400, 2.880 and 3.360 tons of byproduct (pomace) in the 1st, 2nd, 3rd, 4th, 5th and 6th year, respectively.
Production of 770, 1.020, 1.255, 1.480 and 1.710 tons of animal feed in the 1st, 2nd, 3rd, 4th productive year and beyond.
The establishment of a strategic partnership in the two sides of the borders for the marketing of the products.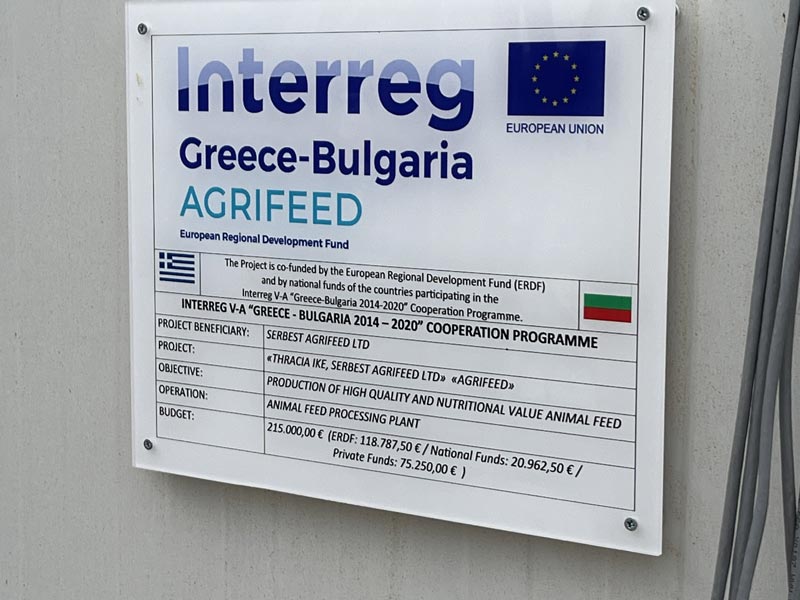 Two Information signs with the project logo have been placed at each partner site providing information on the project and the EU and Member States financial aid.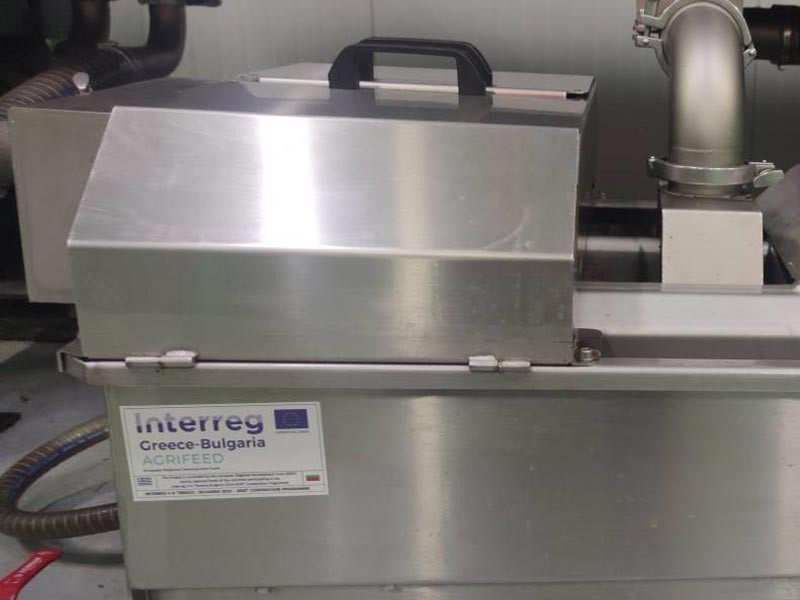 The Project Beneficiaries marked the objects financed from the "Greece-Bulgaria 2014-2020" Cooperation Programme funds with a sticker of the logo.