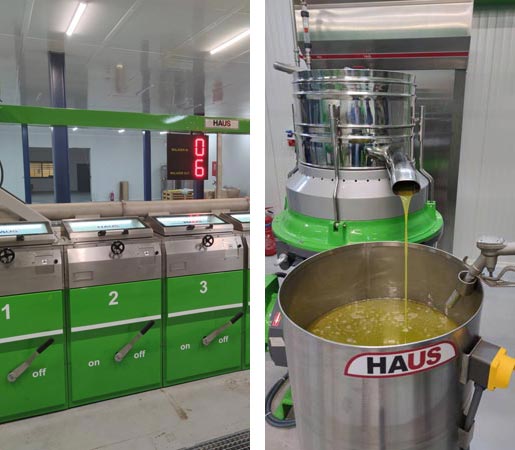 THRACIA IKE – OLIVE OIL PRODUCTION AND PACKAGING
SERBEST AGRIFEED LTD- PRODUCTION OF HIGH QUALITY ANIMAL FEED
Welcome to the Portal AGRIFEED. AGRIFEED is the acronym of a cross-border cooperation project that is being implemented by two progressive enterprises of Greece (THRACIA IKE) and Bulgaria (SERBEST AGRIFEED Ltd). The two companies have decided to establish a strategic partnership as far as it concerns the exploitation of byproducts and the marketing of their produces in dynamic markets.
AGRIFEED is pursuing a financial aid from the Cooperation Programme INTERREG V-A "GREECE – BULGARIA 2014-2020". The investment's total budget is 515.000,00 €, of which 284.537,50 € is ERDF funds, 50.212,50 € national funds and 180.250,00 € private funds.
Two Start-ups, one from Greece and one from Bulgaria, have decided to combine their ideas, plans, innovation capacity and abilities and work together to the common interest and progress within the context of the cooperation program "INTERREG V-A Greece – Bulgaria 2014-2020".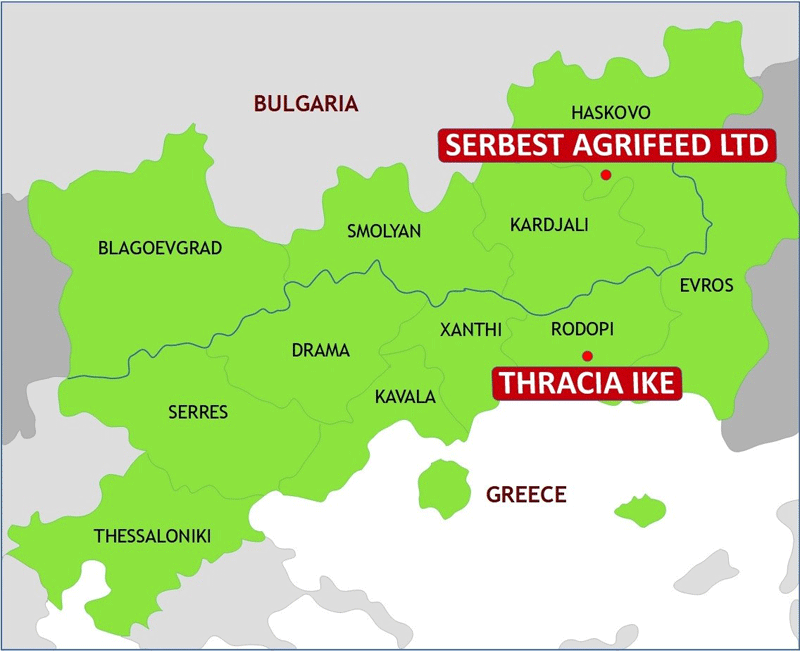 The Greek Beneficiary, THRACIA IKE, an olive oil mill enterprise that has started its activities during 2018 in the Industrial Area of Komotini will expand considerably its production ability and improve the quality of the oil at the highest possible level by replacing the existing line with a high capacity brand-new one of two-stages.
The Bulgarian Beneficiary, a progressive farmer who currently cultivates about 500 hectares of cereals and other agricultural products is pursuing to add more value to his primary production by processing it and turning them to animal feed of various types. To this end a new company SERBEST AGRIFEED Ltd will establish a farm animals' feeds production plant in existing property at Silen.
The installation of state-of-the-art production lines as well as the procurement of modern supportive equipment and the application of Food Safety Management Systems according to ISO 22000/2018 will improve their position in the respective markets. In addition, the two enterprises will develop a multiple business relationship spanning in research and development (R&D), reprocessing and trading.
THRACIA IKE
Country: GREECE
Street Name & Number: INDUSTRIAL ZONE OF KOMOTINI–19A SQUARE BLOCK
City: ARRIANA
Zip Code: 69300
Telephone Number:
+30 2531082668, +30 6947984752
Email: info@thracia.gr
Website: www.agrifeed-interreg.eu
SERBEST AGRIFEED Ltd
Country: BULGARIA
Street Name & Number: Ul. "CENTRALNA" N1
City: STAMBOLOVO
Zip Code: 6362
Telephone Number:
+35 9887956510
Email: g_serbest@dir.bg
Website: www.agrifeed-interreg.eu
JOINT SECRETARIAT INTERREG V-A "GREECE-BULGARIA 2014-2020"
Country: GREECE
Street Name & Number: 65, LEOFOROS GEORGIKIS SCHOLIS
City: THESSALONIKI
Zip Code: 57001
Telephone Number:
+30 2310469695
Email:  jts_grbg@mou.gr
Website: http://www.greece-bulgaria.eu
This webpage has been produced with the financial assistance of the European Union. The contents of the webpage are sole responsibility of SERBEST AGRIFEED Ltd and can in no way be taken to reflect the views of the European Union, the participating countries the Managing Authority and the Joint Secretariat.
The Project AGRIFEED is co-funded by the European Regional Development Fund (ERDF), by national funds of the countries participating in the Cooperation Programme Interreg V-A "Greece-Bulgaria 2014-2020" and by own (private) funds of the Project Beneficiaries.
EU Regional Policy: https://ec.europa.eu/regional_policy/en/